Fine-Dining Experiences At Luxury Restaurants From Around the World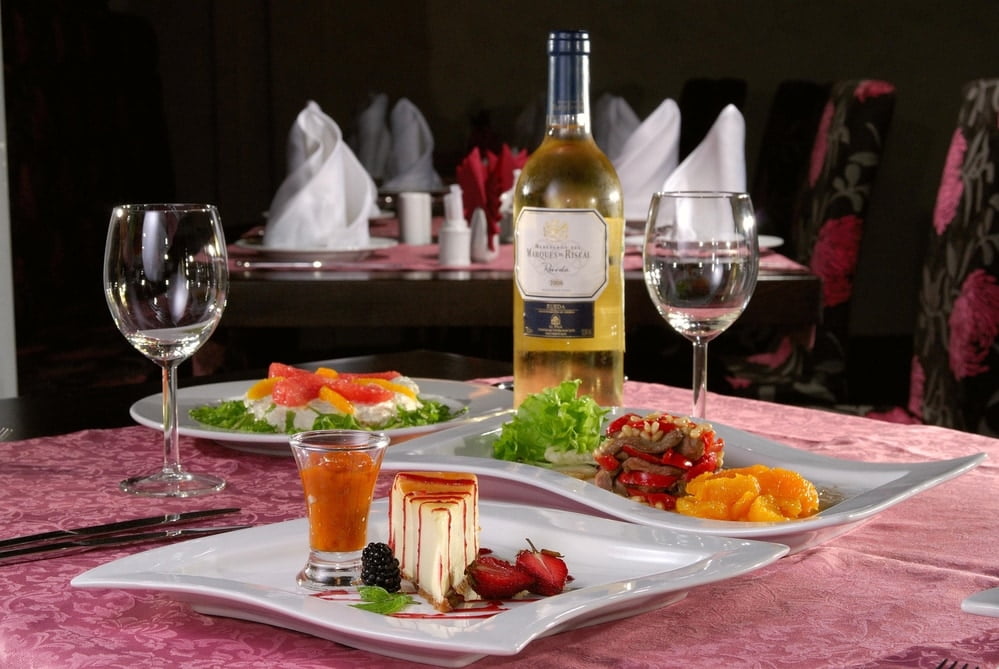 Fine-dining experiences have become a staple among food enthusiasts around the world. From savoring delectable sushi dishes to indulging in multi-course tasting menus, the world offers some of the most unforgettable dining experiences in stunning locations with top-notch service. Whether it's dining amongst the mountains or by the sea, experiencing the creativity and innovation of world-class chefs, or savoring local cuisine, the options for fine dining are endless.
Join us as we discover the best fine-dining experiences around the globe and embark on an epicurean adventure like no other.
Unforgettable Sushi Delights: Fine-Dining Experiences to Savor
Are you a seafood lover? Do you have an insatiable craving for sushi? If yes, then you are in for a treat. Sushi is one of the most popular Japanese cuisines enjoyed globally. But, not all sushi restaurants offer fine-dining experiences. For those seeking an unforgettable sushi dining experience, we have handpicked some globally renowned fine-dining establishments that will treat your taste buds!
Nobu, New York: Nobu is one of the best-known fine-dining Japanese restaurants in the world. The restaurant offers premium quality sushi, sashimi, and tempura dishes that are contemporary yet traditional.
Sushi Saito, Tokyo: Sushi Saito is a Michelin-starred restaurant in Tokyo. The restaurant is known for its premium quality seafood and sushi at the hands of one of the most respected sushi chefs in the world, Takashi Saito.
Jiro, Tokyo: Jiro is probably one of the most famous sushi bars in the world, with only ten seats available in the 3 Michelin-starred restaurants. The restaurant offers an unforgettable sushi experience that you won't forget anytime soon.
Matsuhisa, Beverly Hills: Matsuhisa is Chef Nobuyuki Matsuhisa's flagship restaurant in Beverly Hills. Matsuhisa offers a modern twist on traditional Japanese cuisine, with mouth-watering sushi and sashimi dishes to enjoy.
Ginza Kyubey, Tokyo: Ginza Kyubey is a highly-rated sushi restaurant in Tokyo that serves top-quality seafood in the most elegant and serene environment. The sushi chefs at Kyubey have a great deal of knowledge and experience, ensuring an exceptional sushi experience.
No matter which of these establishments you choose, you will be certain to experience sushi at its finest.
Indulge in the Luxury of Four Seasons Fine-Dining
When it comes to luxury dining experiences, Four Seasons is a brand that needs no introduction. With locations all over the globe, ranging from casual to Michelin-starred restaurants, Four Seasons offers unbeatable cuisine and impeccable service in exquisite settings.
Whether you are looking for a romantic dinner for two or a banquet for a large group, Four Seasons has dining venues to cater to your every need. From Italian to Japanese cuisine, signature dishes created by world-renowned chefs await you at Four Seasons fine-dining establishments.
The ambiance of Four Seasons dining venues is truly luxurious, with stunning decor and premium seating arrangements, ensuring that every detail of your dining experience is given the utmost care and attention. Choose from an impressive selection of wines and cocktails to perfectly complement your meal, and savor the experience of dining at some of the most sought-after restaurants in the world.
The Art of the Dining Experience: Where Fine Dining Meets Creativity
Fine dining is more than just food, it's an experience. And when that experience is elevated to include creativity and innovation, the result is unforgettable. From artistic plating to molecular gastronomy, these top-rated restaurants are where fine dining truly meets creativity.
Multi-Course Tasting Menus
Indulge in a culinary journey with multi-course tasting menus that showcase the creativity of the chefs. Each plate is a masterpiece, bringing together flavors, textures, and presentations like never before.
Ambiance Catering to All Senses
These fine-dining restaurants go beyond just taste. From lighting to music, every detail is curated to create a unique ambiance that caters to all your senses. Immerse yourself in the experience and discover the art of dining like never before.
Creative Plating and Presentation
Artistic plating takes fine dining to a whole new level. Each dish is a work of art, beautifully presented to create a stunning visual experience. From edible flowers to unique serving dishes, these restaurants bring creativity to every aspect of the dining experience.
Molecular Gastronomy
Molecular gastronomy is a culinary concept that utilizes science to create unique and innovative dishes. These top-rated restaurants take molecular gastronomy to a whole new level, using techniques like spherification and foams to create dishes that are as visually stunning as they are delicious.
Experience the art of dining like never before at these top-rated restaurants where fine dining meets creativity.
From Thai Street Food to Fine-Dining Fare: The Conrad Maldives Rangali Island Experience
If you're looking for a dining experience that takes you on a gastronomic journey, look no further than the Conrad Maldives Rangali Island. With a range of dining options, from casual beachside eateries to elegant fine-dining establishments, the Conrad Maldives Rangali Island offers something for every type of foodie.
Sample the Best of Thai Cuisine
One of the highlights of the Conrad Maldives Rangali Island dining experience is the opportunity to sample the best Thai cuisine. From authentic street food to gourmet dishes, you can discover the incredible flavors of Thai cuisine at the resort's restaurants. Be sure to try the signature Massaman curry or the flavorful Tom Yum soup for a taste of Thailand.
Stunning Ocean Views
No matter where you choose to dine at the Conrad Maldives Rangali Island, you'll be treated to stunning ocean views. Whether you're enjoying a romantic dinner at Ithaa Undersea Restaurant or sipping cocktails by the infinity pool at Rangali Bar, the beautiful turquoise waters of the Maldives are never far away.
International Cuisine
While the Conrad Maldives Rangali Island is known for its exceptional Thai cuisine, the resort also offers a range of international dishes to satisfy all palates. The Vilu Restaurant & Bar serves up Mediterranean-inspired cuisine, while Ufaa by Jereme Leung offers a fusion of Chinese, Japanese, and Southeast Asian flavors.
The Ultimate Gastronomic Journey
For those looking for a truly unforgettable dining experience, the Conrad Maldives Rangali Island offers the ultimate gastronomic journey with its "Dine Under the Stars" experience. Enjoy a private dinner on the beach, under the stars, as your chef serves up a bespoke menu designed just for you.
With its range of dining options and breathtaking views, the Conrad Maldives Rangali Island is a must-visit destination for foodies around the world.
Elevate Your Tastebuds: Fine-Dining in the Majestic Alps
If you're looking for a truly spectacular dining experience, head to the majestic Alps. With stunning mountain views and exceptional cuisine crafted by expert chefs, these top fine-dining venues are sure to elevate your tastebuds and leave you with unforgettable memories.
Savor Regional Specialties Crafted by Expert Chefs at Top Fine-Dining Venues in the Alps
From hearty mountain delicacies to elegant haute cuisine, the Alps offer a wide range of culinary experiences. Be sure to try classics like fondue and raclette, as well as local meats like venison and wild boar. And don't forget to indulge in the sweet treats the region is famous for, like Sachertorte and Linzer torte.
Immerse Yourself in the Charming Ambiance of Mountain Lodges and Elegant Dining Rooms
Whether you opt for a cozy mountain chalet or an elegant dining room, the ambiance of the Alps is sure to add to your fine-dining experience. Enjoy the warmth of a fireplace as you savor your meal, or take in sweeping views of the mountains from a restaurant with panoramic windows.
Indulge in Local Wines and Cocktails That Perfectly Complement Your Fine-Dining Experience
The Alps are known for their exceptional wines, from crisp whites to full-bodied reds. And don't forget to try local spirits like schnapps and genepi, perfect for sipping on a chilly mountain evening. Cocktail lovers fear not – the region also boasts its unique cocktails made with local ingredients.
Discover the Breathtaking Beauty and Incredible Flavors of Fine-Dining in the Majestic Alps
There's truly nothing like dining in the stunning setting of the Alps. With expertly crafted cuisine, exceptional wines, and unbeatable views, these top fine-dining venues will take your dining experience to new heights.
World-Class Chefs and Fine-Dining Experiences: A Match Made in Heaven
When it comes to fine-dining experiences, world-class chefs are a crucial element. The creativity, innovation, and talent of renowned chefs can elevate a meal from good to extraordinary.
Whether it's the presentation, flavor combinations, or use of unique ingredients, world-class chefs are masters of their craft who can create unforgettable dining experiences.
From Michelin-starred restaurants to trendy hotspots, world-class chefs are pushing the boundaries of modern cuisine and taking diners on a gastronomic journey through their unique creations. With expertly crafted tasting menus and impeccable service, these fine-dining experiences are not to be missed.
So, indulge your taste buds and discover the incredible flavors, textures, and presentations that come with world-class fine-dining experiences around the globe.
Tales of Fine Dining: Discovering the Best Fine-Dining Experiences Around the World
Embark on an epicurean journey around the world as you discover the best of fine-dining cuisine. Indulge in the luxurious ambiance of Michelin-starred restaurants or savor authentic local cuisine at hidden culinary gems. From the creative and innovative dining experiences to the traditional flavors that have stood the test of time, there is something for every food lover.
Immerse Yourself in the Unique Ambiance and Creative Concepts of Top-Rated Fine-Dining Restaurants
The ambiance of a fine-dining establishment can make or break the dining experience. Discover creative concepts and unique settings that elevate your meal from ordinary to extraordinary. From restaurants built into cliff faces to dining experiences that center around art, every detail is carefully curated to transport you to a new level of dining.
The Fat Duck – Bray, United Kingdom: The Fat Duck is one of the world's top-rated fine-dining restaurants with three Michelin stars. Chef Heston Blumenthal is known for his innovative and creative dishes that often incorporate scientific principles. Diners can expect a multi-course tasting menu that is an unforgettable culinary experience.
Eleven Madison Park – New York City, United States: Eleven Madison Park is located in the heart of New York City and has been awarded three Michelin stars. The restaurant's chef, Daniel Humm, serves modern American cuisine that features locally-sourced and seasonal ingredients. Diners can expect a refined and elegant atmosphere and impeccable service.
Osteria Francescana – Modena, Italy: Osteria Francescana is a three-Michelin-starred restaurant located in Modena, Italy. Chef Massimo Bottura is known for his innovative approach to Italian cuisine and creative presentation. The restaurant's intimate dining room and impeccable service make for an unforgettable dining experience.
Sample Local Cuisine or Indulge in International Fare at These Top Restaurants
Whether you're craving authentic local cuisine or seeking to indulge in international fare, these top-rated restaurants offer the best of both worlds. Experience the flavors of traditional dishes or savor innovative creations that push the boundaries of what is possible in the culinary world.
Experience Impeccable Service and Exceptional Wine Pairings at These Fine-Dining Establishments
Dine in the lap of luxury with impeccable service and exceptional wine pairings that enhance your meal. From sommeliers with a vast knowledge of the perfect wine pairing to attentive servers who anticipate your every need, the service at these fine-dining establishments ensures that your experience is unforgettable.
Discover the Most Unforgettable Dining Experiences Around the Globe with These Fine-Dining Tales
From the bustling streets of Japan to the calm waters of the Maldives, these fine-dining tales take you on a journey around the world. Experience the flavors and cultures of different countries, all while indulging in the best fine-dining cuisine. Discover your next culinary adventure with these unforgettable dining experiences.
Fine-Dining Down Under The Maldives' Best-Kept Secrets for Incredible Dining Experiences
The Maldives is renowned for its clear turquoise waters, white sandy beaches, and luxurious resorts. What many visitors may not know is that the Maldives is also home to some of the best fine-dining experiences in the world. From fresh seafood to creative international cuisine, the Maldives' top-rated restaurants offer unforgettable dining experiences that are not to be missed.
Savor Local Seafood and Fresh Produce
One of the highlights of dining in the Maldives is the abundance of fresh seafood. The waters around the Maldives are home to a diverse array of seafood, including tuna, lobster, and prawns. Top-rated restaurants in the Maldives use these fresh ingredients to create unique and flavorful dishes that showcase the flavors of the region.
In addition to seafood, the Maldives is also known for its fresh produce. Locally grown fruits and vegetables, including bananas, papayas, and mangoes, are used in creative ways to add a tropical twist to international cuisine. Whether you're in the mood for a fresh salad or a hearty curry, the Maldives' top-rated restaurants have something for every taste bud.
Discover Unique Culinary Concepts
While the Maldives offers plenty of traditional cuisines, the top-rated restaurants in this tropical paradise also embrace unique culinary concepts. From underwater dining experiences to dining under the stars, the Maldives' fine-dining scene is constantly pushing the boundaries of what dining can be.
One of the best examples of this creativity is the Conrad Maldives Rangali Island's Ithaa Undersea Restaurant. This restaurant, located 16 feet below sea level, offers a once-in-a-lifetime dining experience surrounded by colorful marine life. The restaurant serves a six-course meal that showcases fresh seafood and local produce, all while guests enjoy stunning underwater views.
Experience Exceptional Wine Pairings
No fine-dining experience is complete without exceptional wine pairings. Many of the top-rated restaurants in the Maldives have extensive wine cellars, offering a variety of international and local wines to perfectly complement each dish.
At the Hurawalhi Island Resort's 5.8 Undersea Restaurant, guests can enjoy a degustation menu perfectly paired with wines from around the world. This unique dining experience offers guests the chance to savor international cuisine while surrounded by the natural beauty of the Maldives.
Immerse Yourself in Serene Ambiance
The Maldives' natural beauty extends beyond its clear waters and sandy beaches. Many of the top-rated restaurants in the Maldives offer a serene and relaxing ambiance, perfect for unwinding after a day of adventures.
The Overwater Pavilion at the Anantara Kihavah Resort offers guests a chance to dine right on the ocean, with stunning views of the surrounding waters. The open-air pavilion is surrounded by water and offers an intimate and romantic dining experience.
Whether you're looking for a unique dining experience or simply want to savor the flavors of the Maldives, the top-rated fine-dining restaurants in this tropical paradise are not to be missed.
Take A Culinary Journey Through Some Of The Top Destinations in the World
As a luxury traveler, few things outdo a five-course dinner with a glass of fine champagne to top it all off. When it comes to the best dining experiences in the world, few corners of the world can match the culinary scene of gastronomical capitals like Paris, Tokyo, and New York City. Restaurant experiences that cater to food and wine aficionados have skyrocketed in popularity in recent years, with places like Chef's Table at Brooklyn Fare in New York City offering seven-course tasting menus that are booked months in advance.
For those looking for exclusive experiences in breathtaking locations, restaurants like Soneva Kiri in Koh Kood's ancient rainforest offer a dining experience that is one-of-a-kind. Imagine eating a delicious nine-course meal surrounded by the lush foliage of Koh Kood's ancient rainforest, accessible only by helicopter. Alternatively, Whistler Ice Caves in Canada offer ice walls for walls and a 10-course tasting menu where you can feast on land and sea.
For those who are looking for even more exclusivity, an intimate dinner at the bar at Beluga in Moscow, where the likes of Beluga caviar are just a slice of luxury of what you start experiencing. You can also take dining to new heights with ocean and dining experiences, like the ones offered at the Maldivian Ice Cap, where you'll enjoy a five-course lunch atop an iceberg collected from Greenland's ice sheets.
While some travelers are eager to get back to their hotel after dining, many others are opting for restaurants with style and luxury – accessing the finest dining spaces like an urban farm atop a skyscraper in Hong Kong. French cuisine seems to be timeless and is always in demand, still topping many of the lists as some of the best restaurants in the world for unforgettable experiences.
When it comes to dining experiences, there is no limit to the level of luxury you can experience, and the options available are sure to leave you wanting more.
Keep updated on all of our latest tips here.
Frequently Asked Questions
Conclusion
Fine-dining experiences are not just about the food, but also the ambiance, service, and company you have while dining. These unforgettable experiences can be found around the globe, from Michelin-starred restaurants to charming mountain lodges. Whether you're looking for creative and innovative cuisine or authentic regional specialties, there is a fine-dining establishment out there for you.
From sushi delights to Four Seasons luxury, from the Maldives to the Alps, and everywhere in between, the world of fine dining is waiting to be discovered. So go ahead and indulge, taste new flavors, and make unforgettable memories at some of the best fine-dining establishments around the world.